A friend on Facebook posted this picture, which prompted the following conversation (I was being facetious, on purpose, but Oliver couldn't get that from what I was saying, apparently):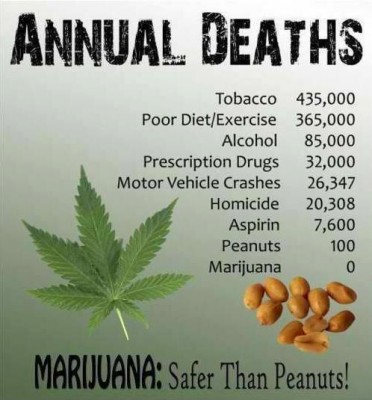 Oliver Potisillegal: Damn peanuts, you scary!
davepoobond: couldnt you say that there are no deaths in marijuana because the government has done a very good job of limiting the adverse affects of the abuse of the drugs?
Oliver Potisillegal: David – The gov't has done nothing to limit any adverse effects of the most widely available dangerous drugs; prescription drugs. Vicodin, oxycontin, xanax, adderall, codeine, and other opiates. So yeah I stand by my statement. by pushing people into more dangerous drugs, including alcohol, and tobacco instead of cannabis, the government has only lined the pockets of big pharma and the cartels.
davepoobond: well, that would be a fallacious argument. just because they havent done anything for other things doesn't mean they didn't do anything for the prior. just sayin!
Oliver Potisillegal: My point remains valid, just because nobody has died of cannabis through direct use, doesn't mean it can be attributed to the government's efforts. There's hard evidence that the gov't has done the contrary. This countries drug policies are seriously outdated, cause more harm than good and are pushing people into illicit black markets. Despite that, why hasn't there been a single documented case of cannabis toxicity/overdose/whatever?
davepoobond: thats because we havent put a bunch of people that just hit the bong behind the wheel and say "let's see what happens" yet
Oliver Potisillegal: As a matter of fact, yes,
http://norml.org/library/item/marijuana-and-driving-a-review-of-the-scientific-evidence
davepoobond: then why do it at all
Oliver Potisillegal: Because If one decides to do it at all, it's their choice and right, not the government's. Besides I find it very hypocritical for society to push a culture of alcoholism and tobacco use yet at the same time vilify cannabis as a scourge when the real scourge is right in front of their noses. Despite that, I'd never condone outlawing alcohol or tobacco because well, it simply does not work. Do you remember reading about alcohol prohibition? The same thing is happening now, except that instead of going after the Al Capones and Nucky Johnsons, they're going after patients and their caregivers. If you still do not believe of the benefits of cannabis vs. prescription drugs, alcohol, or tobacco, then this list will help clarify that cannabis is indeed useful to humanity:
http://norml.org/aboutmarijuana/item/detailed-reference?category_id=734
Oliver Potisillegal: I'm enjoying this little debate, but seriously, our country's antiquated drug laws are in need of serious reform. Too many people are being put away for possessing a plant. During its 4,000 year history of human use, cannabis has been medicine longer than it's been a "dangerous narcotic."
davepoobond: I don't see how you can argue that society "pushes" a culture of alcoholism and tobacco use. The opposite is true. In fact I would say I was MORE pushed into smoking weed than either of the other two, which I never partook in tobacco or marijuana, and rarely for alcohol. So I still don't understand what the point of smoking weed is if it doesn't inhibit anything otherwise what is the point
Gloria: david, just look at the ads on TV, or in any magazine. you will find your answers.
Oliver Potisillegal: By point do you mean to get high? Because from a recreation viewpoint that's the point of weed. I mean what's the point of alcohol, to get intoxicated, right? However, there are additional medical benefits to marijuana than simply to get "high." I'm not going into specific details because you can look it up on your own. You may not see any point, but more and more people including me, see it differently.
davepoobond: gloria, the only ads on tv that i see for tobacco are anti-use ads. also, magazines? this isn't the 90s. print is not a influential form of media nowadays and will continue to decline. not to mention the top 4 magazines, including two AARP magazine publications, Better Homes and Gardens, and Game Informer would probably not ever have a print ad for a cigarette or even any alcohol brands. hard alcohol ads have only started appearing in the past couple years and they are heavily regulated, not to mention they arent even allowed to show anyone "drinking" the alcohol. And the most heavily advertised beers, like Bud Light and Coors Light are practically water anyway and the way they advertise isn't as convincingly evil as you would make it out to be.
oliver, there are "additional benefits" to drinking alcohol as well. wine, for instance. i'm not gonna say any tobacco product has any "health benefits" but people can argue that there are just as easily as people who argue that marijuana has medical benefits as well.
Oliver Potisillegal: You realize that it's not the alcohol itself that's adding the benefits, but the polyphenols that are antioxydants. And you can argue whatever benefits alcohol may have all night, but that's missing the point of my post entirely.
Second, this isn't the 90's? Have you picked up a copy of Rolling Stone? because I can point out at least 3-4 ads in your average issue for Bud Light, Stella Artois, Heineken, Absolut, Sky, should I continue?
Oliver Potisillegal: When one is inundated with alcohol and cig ads their whole life, one becomes desensitized and may not perceive any "evil." My point is give me a choice, it's my right, not the government's.
davepoobond: so then once marijuana becomes legal how do you perceive marijuana ads doing the same thing alcohol and tobacco ads are doing? not as bad because why?
davepoobond: and rolling stone is not a kids magazine. you're not giving people enough credit by saying they don't already have a choice to choose to do the things they want to do.
davepoobond: you already have access to the marijuana you have and you already have the means to justify that it has no adverse effects on livelihood and presents no danger to anyone. you want to legalize it for what reason? to rationalize that it "isn't bad for you" in the eyes of the government? what does it matter, you're already doing it if you are and you're already choosing to not do it if you don't want to. the only reason to make the government not make it illegal is so that you can see advertising and see it in a grocery store, both of which are moot points because you already have access and the advertising doesn't exactly appeal to anyone.
—
He never responded.