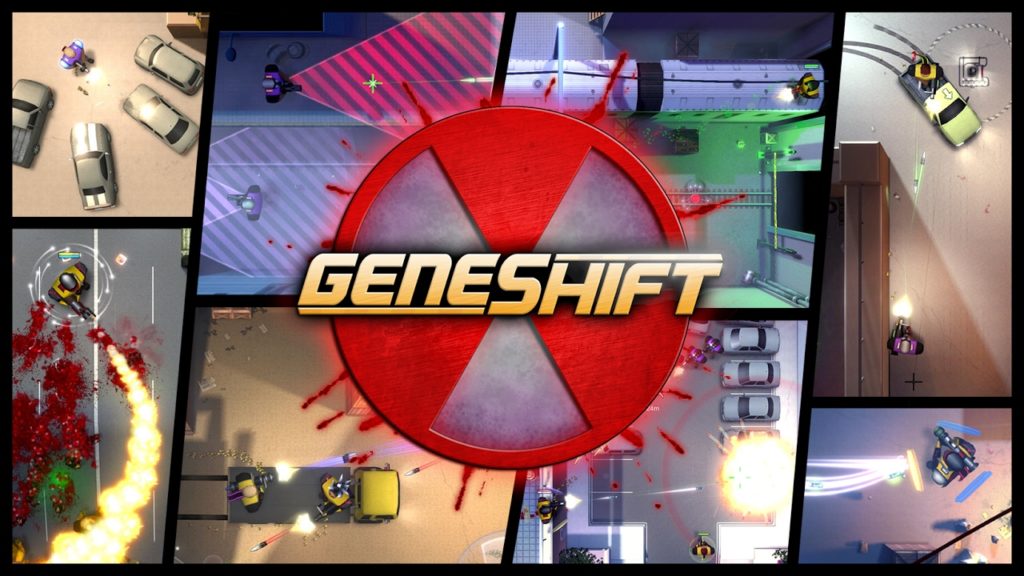 Developer/Publisher: Nik Nak Studios || Overall: 7.5/10
Alright, so here's a weird one. Geneshift. Noun. A GTA game, circa 1998, with a skill tree and multiplayer. Simple and somewhat shallow in execution, but with a fairly large amount of content.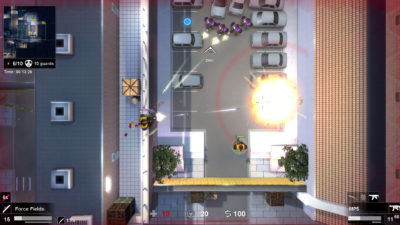 Geneshift is a top-down shooter, much like classic Grand Theft Auto games DMA Designs made before Nintendo got to them (yeah-I said it, bitch) and fucked the company into bankruptcy. You walk, you jump (surprisingly), you shoot. Occasionally you'll use an ability, or drive a car. On the surface, it's pretty simple. You're a mercenary working for some lab, killing rebels or terrorists or something. Nothing particularly amazing, but it gets the job done. I don't think it's anything memorable, but it's not the driving force behind this game.
The player's main tools tend to be guns of various shapes and projectiles. Along with this is: equipment, abilities and vehicles. There's not a lot to say, unfortunately. In single player, you look where you need to go, try to navigate your way there and shoot folks along the way. Money is earned through killing enemies and occasionally selling stuff you find, which is used to purchase equipment at save points, which are ample. Plot points, some boss guys, some hordes of enemies. There's a bit of everything in the campaign, which is nice, and there's even abilities and mechanics that support some limited stealth play. Much like the gameplay, the art direction is rather simple. Everything is clean and not very detailed. Really, everything can be skimmed down to, "it gets the job done," in most cases.
Now, I know what you're saying. "Soupy, why the 7.5? Who's paying you off? Did Squackle get a cut? What was your cut? Do I, as the reader, get a cut? I've got a family to feed." Nobody's paying, noone's getting a cut, and your family means nothing to me unless they are clicking on ads.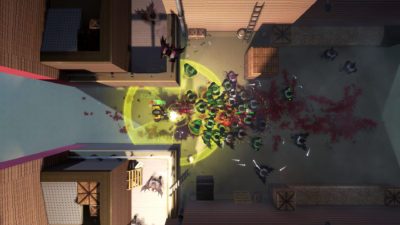 So, the grade versus the lack of description- what's a game gotta do to get a "meh" around here? While Geneshift isn't particularly out of this world, or a "must play" sort of game, it's not really a bad one, or even one that's just kind of okay. Simple, clean-looking games have their place. Soldat. Agar.io. LYNE. You could put Geneshift in that sort of group: simple games that are for casual consumption. There's nothing sloppy about the controls or their implementation, and it can be rather fun at times, but it somehow it doesn't offer enough to me. It's got deathmatch, it's got cooperative campaign options, it's got a lot of the makings of something I would want to play often. For some reason, though, the perspective doesn't do it for me like I felt it would when I initially started playing. Guns have variable engaging ranges, but they all end up averaging out once you factor in the perspective you play the game at. While it's not inherently bad because of the perspective, the gameplay becomes somewhat tedious. Shooting enemies from below still takes cover into account, so sometimes you have to click on a very precise location to shoot someone that appears to be peeking by a ledge. Knowing what you can climb isn't obvious without jumping up and down, which prompts ledges to highlight. Nothing's particularly broken, but too often is there a moment where I get caught doing a jump and get stuck, or have to battle a level's design because it requires perfect timing in jumps (no shit, by the way; I beat all of Cuphead on hard, but Geneshift is the only game in recent memory that managed to piss me off with a section of platforming).
The game is still being worked on, so maybe the problems it has won't be a problem at some point. However, I'm sure there's folks out there that would like nothing better than Geneshift morning, noon and night, even with the issues the game currently has. I think I'd probably play something else, though.