Developer/Publisher: Hanako Games || Overall: 8.0
Welcome Lords and Ladies, gentlemen and women of esteem to the tale of Princess Elodie. A young girl caught betwixt her royal appointment as upcoming queen and the many dangers that the title holds. Watch her take classes on the many facets of a proper ruler and matriarch. Watch her weave her way through the tribulations of both political intrigue and royal scandal. Watch her conquer both the battlefield and the ballroom with her might and refinement. And watch her die… and die… and die again…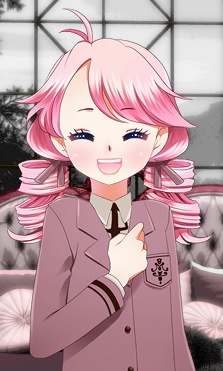 Don't get too attached, her many deaths will be the result
of your bad decisions.
Okay, I had my fun.
Long Live the Queen is a visual novel of political intrigue, war and death all dressed up in a pretty, pretty pink ribbon for your playing pleasure. The game casts you in the role of young princess Elodie, fresh from the sudden and unexplained death of her mother; this understandably depressed young lady is now tasked with running the country until her proper coronation on her fifteenth birthday. You, on the other hand, are in charge of keeping her alive by means of a point and click adventure where you will raise up skills to complete tasks through menu commands. You will fail.
At its core, Long Live the Queen is a literal numbers game. You have a number of weeks until Elodie's coronation, attempts on her life occur on certain numbered weeks, and you then avoid them by having leveled the necessary skills to survive to a certain number. Long Live the Queen's success in this formula is in how fluidly this all comes together. The game does the number crunching for you while clearly explaining all in-game mechanics.
If described in one word, the "game play" in Long Live the Queen is "light." A typical in-game week consist of first sending Elodie out to learn two skills in the form of classes, and ends with having her participate in some sort of event during the weekend. Both skills she has focused on are raised by a base of two points per day and, with no bonuses, results in 10 points for the week. This is further diversified by her mood; every weekend you are asked to have Elodie participate in some sort of activity that affects her mood and, in turn, her mood affects how well she does in her studies. If done correctly, you could gain a bonus that is about three times the usual rate. If done incorrectly, you could succumb to a penalty that results in an effective score of zero points for the whole week.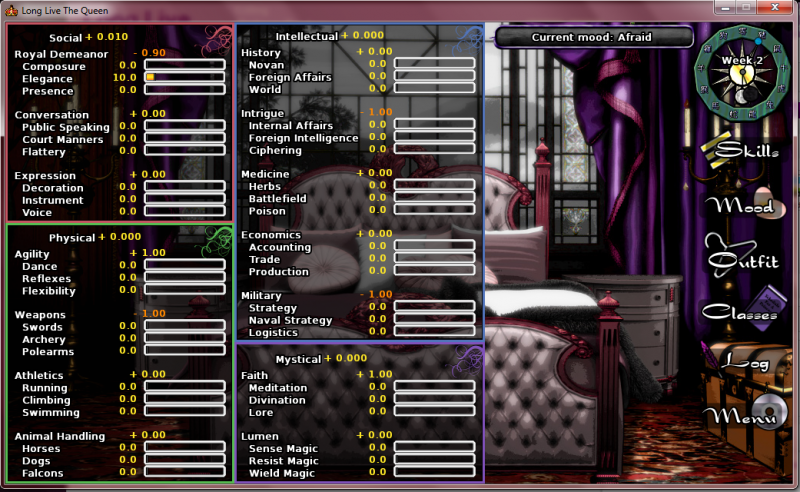 The skills range somewhere between "a lot" to a "crap load."
Now while simple enough in execution, to make the most out of your skills and moods requires a careful point and click balancing act. First off, the skills are quite numerous and the game doesn't really allow for your princess to train evenly in all fields. More often than not, you will find that making Elodie a jack-of-all-trades will lead to an earlier demise than min-maxing (minimizing the effect of undesired skills and maximizing the effect of desired ones). This can get particularly difficult when you find out that each skill has two associated skills that must be raised over 25 points before the skill you want can be raised over 50 points. Overall, you'll find that a well-rounded princess usually equals a hated, useless and dead one.
Moods, to the same extent, also require their own special balancing act to make the most out of them. Each mood is set at one end of an eleven point scale and at the opposite end of that scale is a mood that is contradictory to it. For example, in this game, you can't be angry if you are afraid, you can't be cheerful if you are depressed, and you can't be lonely if you are pressured. How much each of those makes sense is up to you. So whenever a certain activity gives you points in one mood, it also detracts points from its opposite mood. This will often have you subject your princess to a constant state of manic depression as you go from one end of each mood scale to the other in search of the right mood bonus to complement the skills you desire. Though, even with perfect mastery of both skills and moods, it doesn't mean your princess will make it out alive.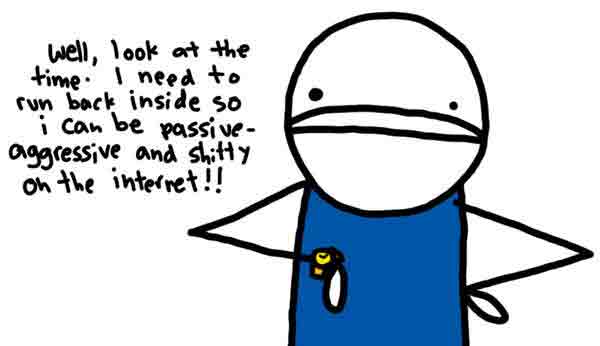 It's not like I think that the combination of angry and afraid is being
passive-aggressive, but it could make sense, man…
Source
Elodie is going to die… she's going to die a lot… but that is also part of the fun of Long Live the Queen. Even when you believe you have a perfect set of skills and moods to take your little monarch from princess to queen, the game has no problem throwing a surprise curveball at you and killing Elodie off. The process, while frustrating, often times fills you with a renewed sense of determination as you start fresh and tweak her skills to overcome that particular obstacle and then find another one to have you repeat the whole process. Even when you do eventually manage to make Elodie a queen, you can find yourself eagerly replaying the game to find out what other sets of skills can make her a queen and not a cadaver. Altogether, Elodie's constant deaths give a sort of morbid charm to the game.
Never before has brutal death been more adorable.
Visually, the game takes many cues from the art styles found in most shoujo (girl) comics in Japan, which makes sense since this game is targeted towards girls but with a wider audience in mind (justifying my manhood: done). The girls are cute and the boys are just as pretty. My only problem is that despite the game fitting the visual novel category, it seems far more inclined to just describe the story rather than illustrate it. The game could do well to provide more illustrations during the more important points of the story than just a portrait of a face and some text next to it. Though, when illustrated, the pictures are a treat to see.
In the audio department, the piano arrangements that accompany the story give it a fairy tale ambiance, as well as, just being pleasant on the ears to hear. It does well to highlight the sad, cheerful, and action scenes throughout the novel. In contrast, the sound effects are virtually non-existent. Which is a shame, since a well placed clang of steel or cheering crowd could have picked up the slack where the visuals did not.
There isn't really much to say about the interface. To its benefit, everything is easy to get to, clearly explained and hardly confusing. You point. You click. You get on with Elodie's life (or death).
The narrative does a good job at juxtaposing the pretty princess theme with the darker tones of rulership. One minute Elodie could be enjoying a grand ball, and the next she could be at the end of an assassin's blade. Though, in that regard, it does exactly what the game promises; it takes you through the "typical" year of someone destined to be queen. Where the narrative thrives is in the fact that, despite one scene near the end, it is exactly what you make of it. Often times, you will even find that events from much earlier have great impact on events found later on in the story. Though, whether princess Elodie makes the castle her gilded cage to protect her from the world's troubles, becomes a war mongering tyrant, or goes on an adventure to vanquish fantastical beast is completely based on the skills she takes and choices you make.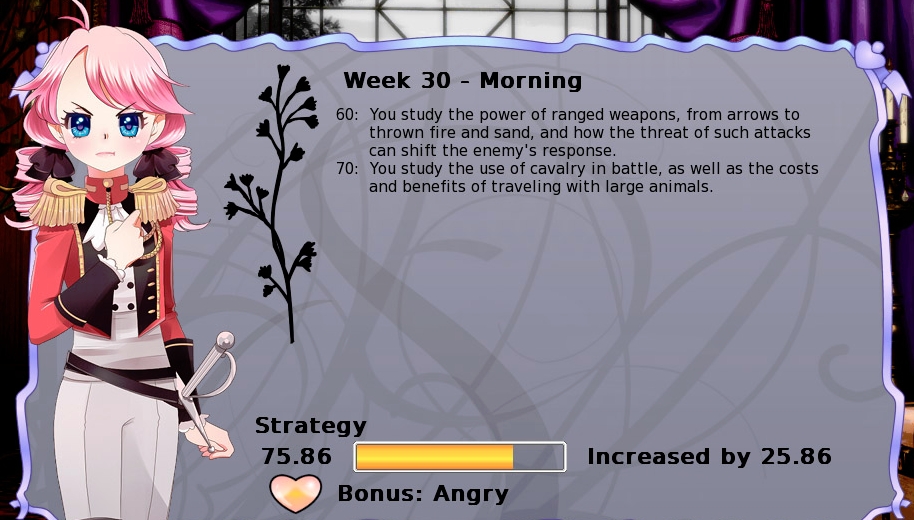 …or you could play her like I did. As a warlord skilled in both decoration and public speaking that I imagine
screams, "I AM THE PRETTIEST!" after every victory to the cheers of a loving crowd
…and so ends our tale of princess Elodie. A tale, while lacking both in effects of visual and of sound, can be an intriguing piece that is delightfully frustrating and wonderfully addicting to come back to. To all the Lord and Ladies in the audience, I bid you "Adieu."
When not writing reviews as Unnamedhero, Eduardo Luquin can be reached at unnamedheromk13@gmail.com.