Developer/Publisher: GungHo Online Entertainment|| Overall: 8.5
Hardware Used: T-Mobile G2 with Android 2.3.4
With its roaring success in the Land of the Rising Sun, (that's Japan, because the sun doesn't rise elsewhere) GungHo Online Entertainment now intends to addict America with its special blend of Puzzle, RPG and Free-to-Play/Pay-to-Win elements with the straight-to-the-point title Puzzle and Dragons. Though, does the game deliver a fun experience that can garner the attention of an American audience, or will it simply fade in obscurity like many other Japanese imports?
If you need me to tell you which of these imports was a failure and which wasn't, then videogaming
might not be the right hobby for you.
Puzzle and Dragons is the unholy combination of the puzzle elements of Bejeweled, the monster mechanics of the Shin Megami Tensei series and a dash of Pokémon for added flavor. While each game is addictive in its own right, someone in Japan thought combining the three would make an addiction juggernaut of the likes that mobile gamers have never seen before… and for the most part, he was right.
Puzzle and Dragons starts you off with the wholly "original" idea of having you pick one of three elemental monsters: a fire monster, a water monster, and a plant monster. You are given a random "rare" monster to further entice you to collect more monsters. Afterwards, you are thrown into a seemingly endless supply of dungeons to capture monsters, level and evolve your collection, as well as level yourself up — all to eventually continue the vicious cycle when you find that you can now take on stronger enemies and dungeons. All of which aptly describes your journey through the game.
Okay, I don't care how it happens but one of you
is helping me catch a Mewtwo.
Game design in Puzzle and Dragons is actually pretty solid. The meat and potatoes of the core game will have you encounter wave after wave of monsters in each dungeon until you reach the boss monster. During battles, the monsters will attempt to attack and reduce your hit points to zero. You'll counter by matching up elemental gems to make your corresponding monsters attack and reduce the enemy's hit points to zero. The best moves are when you form a chain of matches, which further multiply the damage your monsters dish out.
Along the way, you collect more monsters while making enough coins to further advance your monster team. While the premise is simple enough a layer of strategy is added by the various special abilities each of your monsters provide that sometimes cause extra damage, other times restore your HP, and can even convert one type of elemental gem into another. Taking these special abilities into account when forming a team of monsters can mean the difference between beating an enemy monster that your current level shouldn't be able to handle or having a boss curb-stomp them. Furthermore, special "Leader Skills" further shake things up and add another layer.
Puzzle and Dragons also resides in the easy-to–learn-but-hard-to-master category, though the game does a sufficient enough job at explaining the basics, it leaves the more advanced strategies to the players to find them on the internet or discover them in a happy accident. Overall, the gameplay is fun and engaging.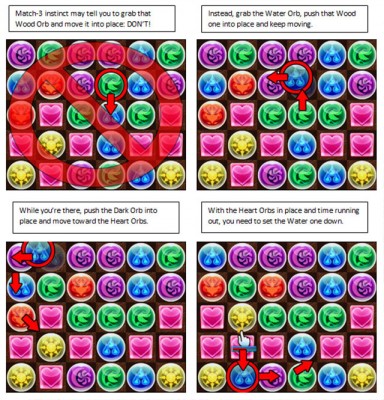 This is an example of strategies derived from a
"happy accident."
On the other side of the Free-to-Play coin is the fact that Puzzle and Dragons is a Free-to-Play mobile game and has no shame in reminding you of that. While plenty of activities can be done with the in-game currency, namely leveling up your monsters and evolving them, there are activities that require a special form of currency called a "Magic Stone." The activities vary in usefulness; you can revive your monsters in a dungeon, regain their stamina so you are allowed to play longer, or get a turn at the hallowed "Rare Egg Machine" for an almost guaranteed chance at a strong monster for the price of five Magic Stones. Then, once their usefulness has been established, the game proceeds to remind you at every turn that they can be purchased in their online store, especially when you have none left.
Now, a fair warning to new players: the game will attempt to make it seem like Magic Stones are easy to come by as it bombards you with them early on in your career as a Pokémon Mas… Persona Use… Dragon Tamer(?). Know that this is only temporary and the stones quickly become a much rarer commodity. That's not to say that you'll never get them, and that you can't eventually achieve the same results with a lot of hard work, but the game is more than happy to offer you an easy way out if you wish to throw money their way.
The controls in this game sometimes suffer the same foibles that many touch screen based games have, but work enough of the time for that to not be a problem. The game never really asks you to do any more than tap the screen or drag your finger along it, and barring an occasional accident, you are able to do just that with no problem. The other elements of the interface are also easy to use. On the main menu, everything is visible and doesn't require more than three taps to get somewhere, and in the dungeon the elemental gems and monsters are in clear view. The only problem I have with the touch screen controls is that the gems seem a bit too close, making it hard to see the gems around the one you're currently in control of. Of course, it could just be my fat finger and small phone that are the real problems.
Visually, the game doesn't really offer much outside the portraits that come with each monster. They are often colorful, creative and somewhere along the lines of adorable, ferocious or a very specific fetish that I'm sure applies to someone. In contrast, the backgrounds are mostly just pallet swaps (recoloring the same textures) of the same hallways. The special effects are just as bland and usually involve a ball of colored light that hits the opponents, followed by an uninspired effect that represents the element used in the attack.
Ladies…
The music unfortunately hits the same note (see what I did there), and is just as bland as most of the visuals. You are constantly subjected to the same slightly upbeat and so-often-forgettable-that-I-had-to-log-into-the-game-to-remember-it music in every dungeon. The monotony is only broken up by another, more intense song that is also played at every boss encounter. The sound effects are just as forgettable and really don't do anything different that you haven't seen before.
Now, a special note should be added as to why this game is so addictive. Not only does it provide solid gameplay, and a vast collection of monsters to collect, improve, and form a team around, but the game is also constantly in the midst of some sort of special event. The events serve many purposes from providing the user with fresh new dungeons to explore, the chance to collect rare monsters such as angels, demons, and batman (I'm not kidding), and also the ability to collect more of the coins, experience, and "Magic Stones" to make team building all the easier. Furthermore, these events often come and go, so it pays to log in daily to check out what is going on, what you can take advantage of, and exactly how long you can take advantage of it. In conclusion, the events give an incentive for players to log in daily.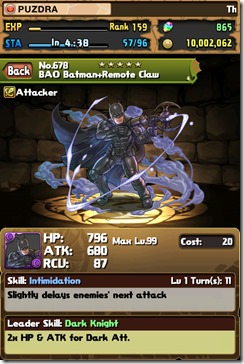 Okay, let's be honest here… you'd make a much better leader of this team
than me, so I'll just stand back here and let you call the shots.
Despite the hiccups in the audio and visual department, Puzzle and Dragons is a fun and addictive game. The combination of bejeweled-like puzzles, collectable monsters, and a Shin Megami-like advancement system seemed to have meshed well into a game that is indeed playable, and worth a look.
When not writing reviews as Unnamedhero, Eduardo Luquin can be reached at unnamedheromk13@gmail.com.