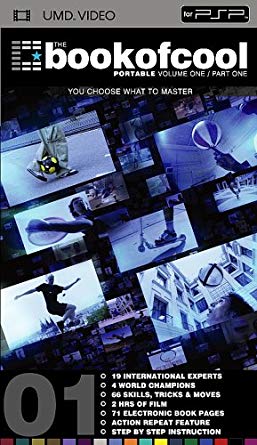 Book of Cool Volume 1 (2006)
Production Companies: Spirit Entertainment
This is something I have on my PSP, I got it for review, but was always unsure how to review it.  It is a series of videos that show you how to do tricks with a particular sport or item.
I made notes on each video and how interesting they were a long time ago, but never got around to making a legit review.
Streetball – 7/10
A little movie to introduce you to the sport/people.  The shutter speed to show slow motion shots results in poor lighting because they shoot in the same light as normal shots.  There are 14 tricks.  5 have still picture instructions, and four are in slow motion.  You can watch the slow motion parts infinitely by themselves.  While they show you how to do the tricks, it doesn't seem very feasible to do it very well just based off their instructions.  Many tricks are explained well but you have to really be trying or have a passion for trying to learn these tricks.  Most tricks are not for a regular person to impress people with and you'll have to be in a game or practice with a partner to know if you're doing it right from their instructions.  There's also some weird shit about a kitchen.
Football – 7/10
Freestyle football.  It isn't shot in widescreen throughout and changes aspect ratio.  Movie consists of "Mr. Woo" smacking the ball around for a good 10+ minutes without letting it touch the ground.  Pretty impressive and interesting to watch.  Mr. Woo has an accent which might make it hard to understand.  They added subtitles as well.  There's no uniformity for this video, as the change of location and camerawork aspect ratio can either annoy you or break up the monotony of seeing the same location.  These guys seemed to use autofocus, so the focus can go in and out as they zoom in.  Subtitles aren't in American English.  It's more like a "how it works" rather than"how to do it."  Sometimes camera doesn't get the full trick for you to see.  It gets boring after a while.  There are 15 tricks, 11 with stills, 10 in slow motion.
Razor Scooter – 8/10
6 tricks, 6 slow motion, 0 stills.  This proves you can make an extreme sport out of anything with wheels.  Good instructions, shows you how to do it and you see mostly everything you need to do it.
Footbag – 5/10
8 tricks, 4 slow motion, 3 still.  Same song as Razor Scooter is used.  Freestyle footbag champion????  😐  Looks like he's dancing, hard to see the footbag since it's dark.  It is pretty boring to watch in slow motion unless you're really trying to learn the tricks.  The setting is nice, at least.  Another guy explains as the other dude kicks the bag around.  BORING!!!
Frisbee – 9/10
13 tricks, 8 slow motion, 11 stills.  Some of the most ridiculous things to do with a plastic disc is here.  Nice setting.  There are a lot of shots with the guy in a blue sky void, though.  Good ways to throw frisbees if you don't know how to throw them.
Street Soccer – 6/10
7 tricks, 7 slow, 4 stills.  Pretty much the same as "Fooball" but they show you some other tricks.
Pen Spinning – 7/10
12 tricks, 11 slow, 4 still.  This is probably the least interesting thing ever.  Pen modifications??? Almost comical.  It is more accessible to do these tricks than others, but it is really boring to watch.
Golf – 5/10
6 tricks, 6 slow, 3 still.  If you ever wanted to do stupid things while golfing, you found your starting point.  The audio is messed up at times.
Rugby – 8/10
7 tricks, 7 slow, 6 still.  Nice to learn about a sport that isn't very popular in America and how to play.  It is pretty short, and unfortunately not very educational either.  It is hard to see the moves that are done.
Cards and Magic – 8/10
8 tricks, 2 slow, 0 still.  It is interesting to see how the "magic" works.  Gets sort of boring.  They go more into things that do with cards rather than magic
Skate and Blade – 6/10
11 tricks, 7 slow, 11 still.  Skateboarding and rollerblading tricks.  Poor lighting during the high shutter speed shots/slow motion very grainy and dark.  It is subtitled.  Sound has wind noises in it during some parts.  It teaches you how some of this stuff works, but highly unlikely to learn just from this video.
Casino and Cards – 9/10
22 tricks, 10 slow, 17 still.  Interesting stuff about casino tricks and what they do with chips/cards during games.