Developer: 2Slick Productions
Slick Spike (PC) (1.5 MiB, 1,041 hits)
Game by 2Slick Productions, made with Game Maker.
–
Overview:
This is what PacMan would do if he wanted money…instead of pebbles…and no ghost things….or a wife
Graphics:
The graphics aren't anything more than a few angles for the main character and the enemies….i can't even figure out what the enemies are half the time. The only one i recognize to be anything is a pair of eyeballs…this is what Slick Spike looks like: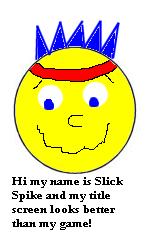 Sound:
The music is ok. It IS kinda strange though…nothing too interesting to listen to though, because of the frustration that comes with trying to figure out the puzzles in the game.
Gameplay:
The gameplay actually gets increasingly hard, I only made it to level 4, but as you go on with levels, it makes you do puzzles that you did before, and combining it with new puzzles in different ways, so it makes you try to figure out what to do all the time. Supposedly there is 40 levels in this game (as per their web site). The gameplay is THE strong point of this game, it is simple yet hard.
Crappiest Part:
The enemies are really friggin annoying. You have to remember their movements and time everything right. This isn't necessarily crappy, but its just something that is annoying.
Overall Score:
I can really only imagine what happens over the next 40 levels. It says there is "major bosses" on levels 20 and 30, but i dont know how you can beat any enemies….yeah….whatever, I give it a:
7/10
Slick Spike (PC) (1.5 MiB, 1,041 hits)
Game by 2Slick Productions, made with Game Maker.