The magical world of Melone. Melone was beautiful place. So green, free from corruption. And so beautiful. From far away, the planet looked like a Honeydew Melon, orbited by a watermelon moon.
The technologically less superior planet of Squashe resented the happiness of Melone. When Melone had all these nice shapen melons, Squashe's squash was in all messed up shapes, and most looked like huge penises. It wasn't a very comforting fact to know that you are eating a limp penis. Pumpkins, Squash, Zucchini. The list goes on and on, and no one liked it. People treated Squashe like Squash. They passed it around the table, taking pokes at it and then pass it onto a gullible bastard who would eat the squash. No one liked Squashe. Not even the Squashens.
Squashens absolutely despised the Melonies, and often poked fun at them, even though none of their jokes were even funny. One was: What is the name of a male living on Melone? Melanie!
See? Its-not-funny. Anyway, RoboCop, the leader of Melone, decided enough was enough and RoboCop got all the Melonian armies and whupped Squashe's ass. Yeah! Alright yessssss! Squashe stinks!!
RoboCop placed Melone's flag on the highest point of Squashe. And so began the Melonian empire! This is what the flag looked like: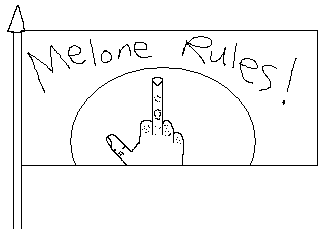 The END