Developer/Publisher: Royal Troupe || Overall: 7.5
Heroes come in all shapes and size, and that's precisely the problem in Message Quest. Published and Developed by Royal Troupe, Message Quest takes a step back from the usual hero's story and focuses more on the one that literally delivers the hero's call rather than the hero receiving it. Set in a land about to fall to ruin, the laziest member of the Order of Heralds must deliver an important scroll to an even more important hero in an attempt to save Avarange. The problem is that Feste, our main character, would much rather laze about than bother finding a hero who could be just about anybody. Thus leaving the player as both his conscience and fourth-wall-breaking audience member, you must goad, manipulate and eventually encourage Feste to complete his noble quest. The player will find a point-and-click adventure along the way.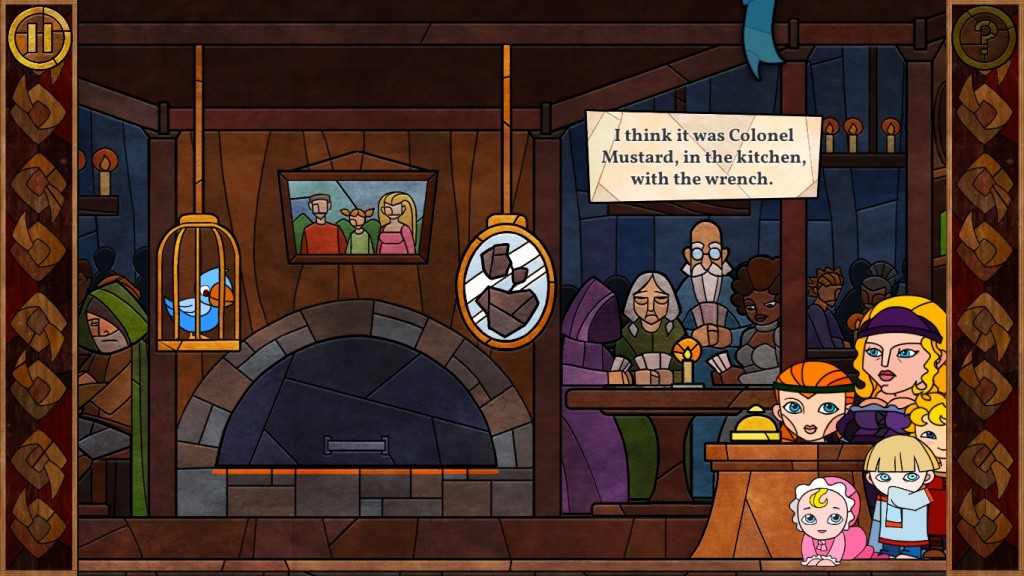 Unfortunately, the answer to who killed Mr. Boddy remains
to be found.
The first thing you'll notice about Message Quest is the art style. Bright tones and dark outlines give it a style similar to any stained glass window you'd find at a church, mosque, synagogue or personal shrine to your favorite anime character (I don't discriminate).  Furthermore, each character has distinguishing features that are often exaggerated to easily tell them apart and add to their charm along with their mannerisms and random sound effects they make. As for the other sounds you hear, the music is littered with melodies that remind you of renaissance fairs or classic fairytales. Thankfully, despite the short length of the game, there are enough arrangements to prevent any individual song from going stale.
Message Quest is pieced by equal parts story and gameplay. The story section consists of a charming, but not too intricate, tale about Feste overcoming his laziness and being introduced to the virtues of hard work and responsibility. Unfortunately, it didn't convince me that a lifetime of laziness can change in a story that probably played out over the course of a few days. Especially for a person who I had to literally drag out of their home to start the quest. There is also an interesting dialogue tree mechanic where you pick what each character in the conversation says, though in implementation I didn't find it all that necessary considering it never really changed the story's outcome. Still, there is a bit of fun in the tale and some nice references to other fantasy and classic tales as well. The characters are also amusing, though a bit one-dimensional.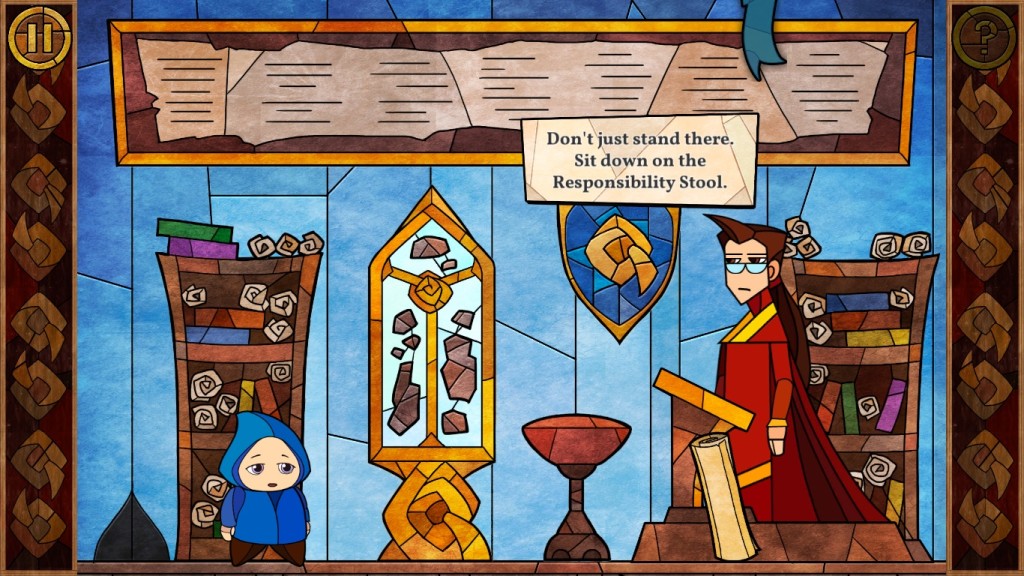 We need more virtue based furniture. I suggest the honesty sofa,
the loyalty table and the chastity bed.
The gameplay was really average at best and mostly consists of an assortment of jigsaw puzzles, and the usual point-and-click affairs of clicking on and manipulating objects in the background to advance the story. It's hardly even difficult to lose track of your objectives, with the game having a convenient scroll at the top of the screen that tells you exactly what you are looking for, plus another button that shows you which items are clickable. The truly interesting bit was the odd battle mechanic this game featured. It more of a mental combat meant to deplete an opponent's will and pump up Feste's own will with a funny assortment of actions like jogging, making a puppy-dog face and playing dead. Though fun, it didn't happen nearly enough for me to truly enjoy it.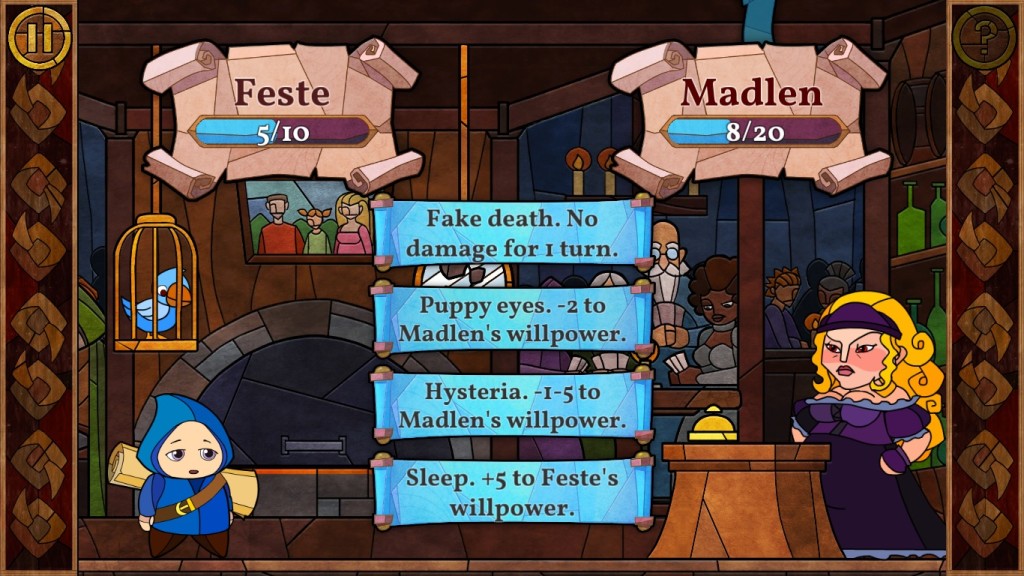 "Don't make me pee my pants, woman!"
Overall, Message Quest is a pretty decent game that doesn't quite hit all of its high notes. It's very pretty, has a decent story and so-so gameplay. It's also pretty short with it taking me all of an hour and a half  to complete, even as I took the time to explore my every option. To make up for the length of the game, the price point is befittingly lower, coming in at just under three dollars on Steam. While Message Quest isn't necessarily ground breaking or a shining example of its genre, I can see it being the perfect video game chaser to play in between longer games since there is still some enjoyment to be had.
When not writing reviews as Unnamedhero, Eduardo Luquin can be reached at unnamedheromk13@gmail.com.