So, I woke up today at around 6:30 and took a shower. When I got out of the shower, I got dressed and then called AJ. After I told him he was coming with me, I drove over to his place, and like we had decided last night, we went to go eat somewhere, but first AJ had to get batteries for his camera and some cash. Afterwards we went to eat some doughnuts. Anyway, there wasn't too much traffic on the way there, since we caught the last bits of rush hour I believe. When we got there, there was no trouble parking, but I can only imagine how hard it'll be tomorrow for that.
When we got in, we got our media badge holders, and looked around. Everything was still being set up, so nothing was actually being shown yet. Its a good thing we got our badge holders and everything really easily, because it'll probably be hell tomorrow morning.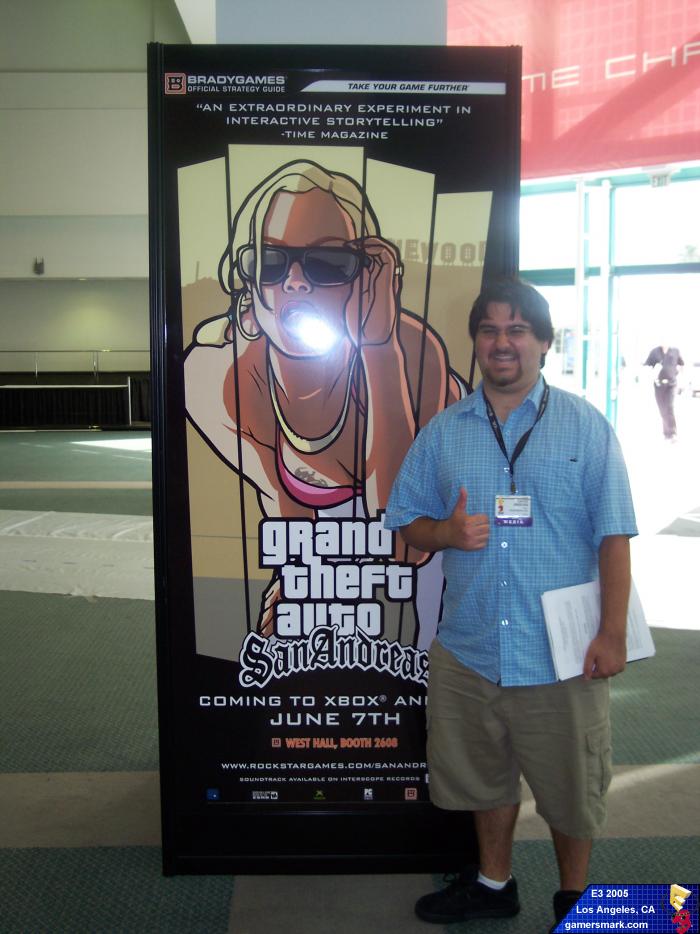 Me Standing In Front of Cardboard GTA Chick
After we got our badges we went back down to the lobby and looked around some more. I called Dan to tell him we were there. They said they were parking right then and that they'd call when they got to the lobby. So we hung out around the lobby some more, and AJ walked around behind the escalators, and low and behold we found the new Batmobile for the upcoming "Batman Begins" movie.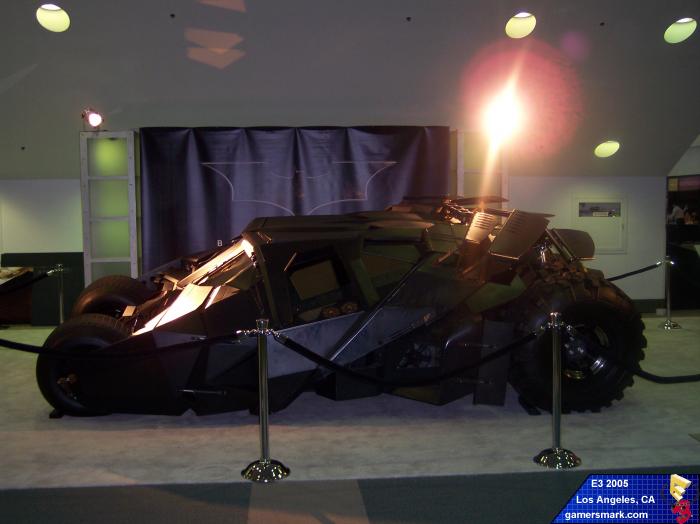 The New Batmobile from "Batman Begins"
When AJ and I met Dan and Marcus for the first time, we shook hands and stuff, then they asked where they could get the media badge holders. On the way there, they asked what was going on today, and we said nothing except the Nintendo conference. While they were getting their badge holders, AJ and I figured out that the Nintendo Conference wasn't even at the LA Convention Center. Needless to say, we were kinda mad. So, since that was the only thing even happening today for the most part, we didn't know what to do at all.
We looked at the event list and saw that there was an Educational Game conference hosted by MIT or something like that. We decided to just go, since nothing else was happening, and while AJ and I were looking around some place else, we lost Dan and Marcus. They didn't say they were going right in, but we assumed they did. AJ was saying we should probably just leave since nothing was happening, but I thought we should at least tell Dan and Marcus before we actually left.
So we went inside the MIT conference thing, and saw Peter Molyneux (game designer for Fable, Black and White, and Black and White 2) talking about his new game where you can make a movie and then share it with people. It seemed pretty interesting. He was talking about how educational games can still be fun, as well.
He was talking about how educational games can still be fun, as well. He talked a lot about all the different things that game developers making educational games had to deal with, and the rising costs of development for the next generation consoles (upwards of 20 million dollars). The main points he made during his main talk was that he wanted games to be used in the classroom to teach. He made a reference to how he learned more about world history from the Civilization games than he had ever known previous. He also mentioned he liked to make games that gave you a choice of being good or bad, because people could see the consequences of their actions whether they be good or bad and see how things happened, similar to real life. He mentioned that in America, 75% of the people chose to be good in games if they were given the chance, but in Europe it was the exact opposite, with them saying 75% of them would chose to be evil. After a while of him talking, he took some questions from the audience. All together that probably took a good 45 minutes. Or at least it felt like it.
A funny part of the conference was that Marcus asked a question about what markets they hoped to appeal to with educational games even though they cost so much because of increasing next-gen development costs. After he answered the question with saying there are enough people out there who would buy an educational game (or to that affect), later on someone else in the audience stood up and made the statement that educational games always sell well, and that "they" (meaning Marcus) should check their statistics again, because she hates it when people say that educational games don't sell well. I wanted to tell her to stuff it, cause it seems like she was trying to snub Marcus for asking that question, though she really didn't know who he was. She probably worked for a company that made educational games now that I think of it.
Peter also made a reference to Leroy Jenkins from World of Warcraft, if you know who he is. Molyneux said that he supported the Xbox 360 (but not specifically ONLY) because of its abilities regarding multiplayer games, which he is all in favor of, because people would be able to go on quests with each other and stuff.
He said that major thing in the next-gen platforms was how they could bring people together to play with each other, and that was a very important value for him.
Another question that was brought up in the conference was about the fact that with increasing quality of games, it would be hard for schools that will always have outdated PCs be able to use the games that are top of the line. Molyneux responded with saying that a remedy for that problem would be using video game consoles instead of updating all the PCs every year, since consoles only come out every five years or so.
He also said that there are many games that could help teach courses, such as the Civilization games for world history, or using the Half Life engine (which he said was very useful) to create educational games.
After Peter's interview/conference session was over, people started to get up and leave, while people stayed for the next conference by Leap Frog. AJ and I already decided we'd just leave after we told Dan and Marcus, and we stayed for the whole conference to do so. So we told them we'd just go since there wasn't anything to do. They're probably just hanging around there still, taking pictures and stuff.