Developer/Publisher: Perfect World || Overall: 8.0
World of Warcraft never wowed me. I didn't ground myself in Tera. I didn't enlist myself for Guild Wars. Neither did I ever play EverQuest. Much like the old Zelda CD-i games, what your humble reviewer is trying to say is that he avoided Massively Multiplayer Online (MMO) games like the plague. Perhaps it was due to a lack of interest in taking the RPG experience online, or maybe it was the fear that the time sink would melt the proverbial face off of my free time à la Raider of the Lost Arc. At least, that was until I gave Perfect World's MMO Swordsman a try.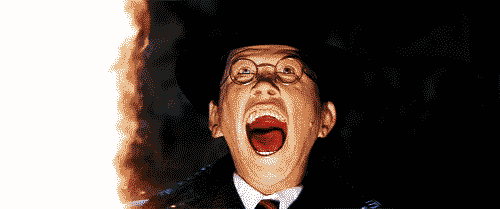 Always make the Indian Jones reference.
Always. 
Disclaimer: This review is based on my experiences playing the Infinity swordsman class up to level 37, during the open Beta. There may be some changes when the game goes live on July the 29th and after as the game is updated.
Swordsman Online is Perfect World's latest foray in the Free-to-Play (F2P) Action MMO market. Inspired by the popular writing of wuxia (martial hero) novelist Louis Cha, Swordsman trades in the typical fantasy-styled combat and races found in most MMOs for martial arts action and oriental locales. The game touts wonderful graphics, an abundance of visceral martial arts inspired combat, exclusive guild-only quests, a variety of classes based on schools of martial arts, a rich story, and an overall fun experience for any MMO junkie.
Though, does the Action MMO hold true to those boast? Well, without further ado, here is my review.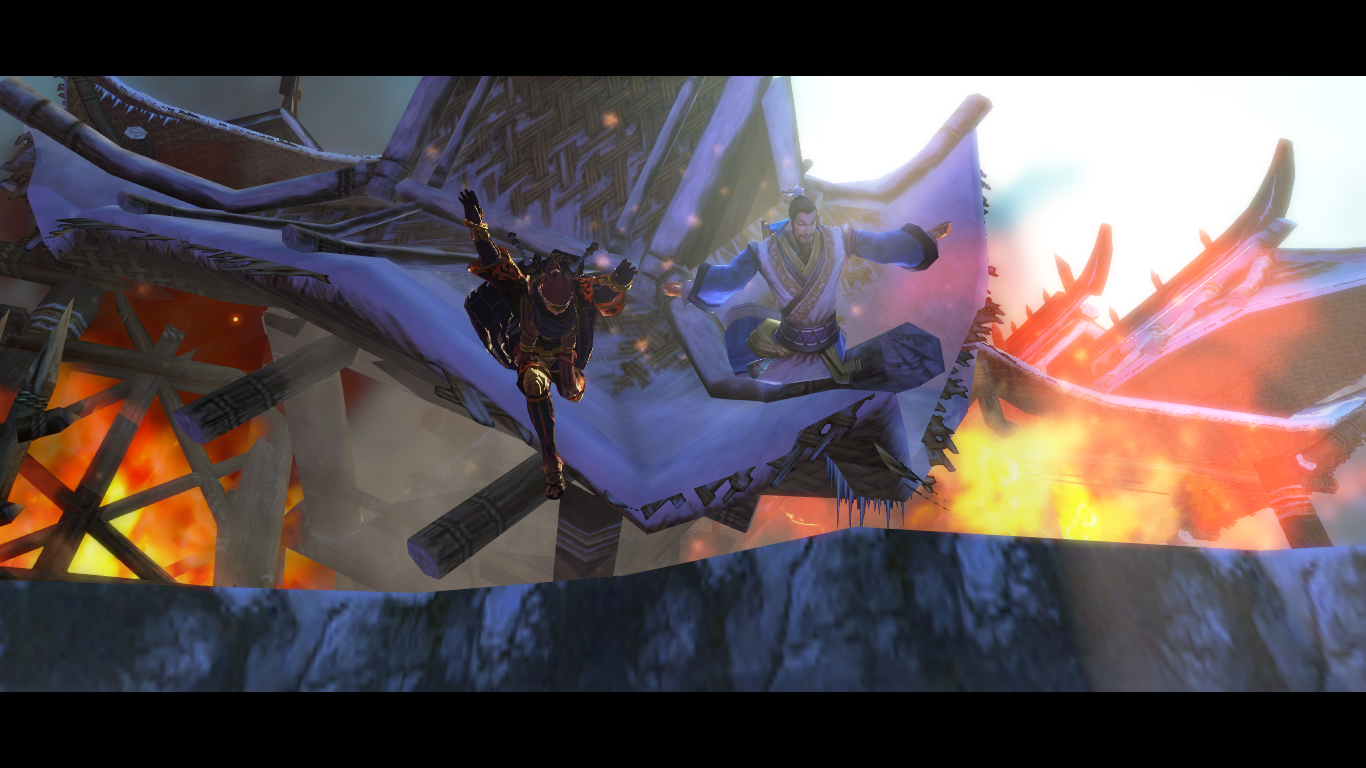 LET'S GET THIS STARTED!!!
YEAH!!!
Right off the bat, Swordsman introduces you to a rather aesthetically intricate and detailed character creation process. From height to build to facial scars, the standard character options already provide an ample playground to create a character to your liking. Furthermore, the advance options offer you sliders to adjust the size, shape and location of those features allowing anything from an eye-catchingly attractive character model to a grossly hideous one.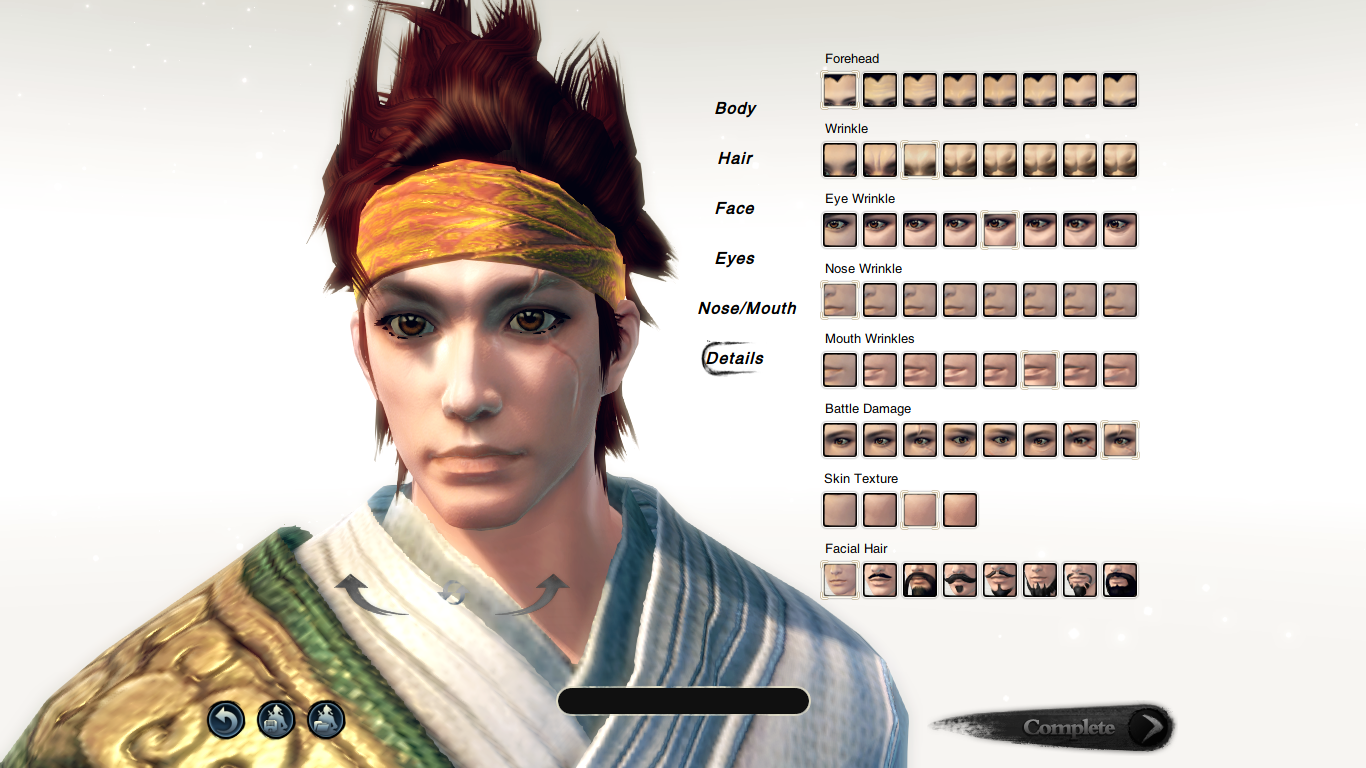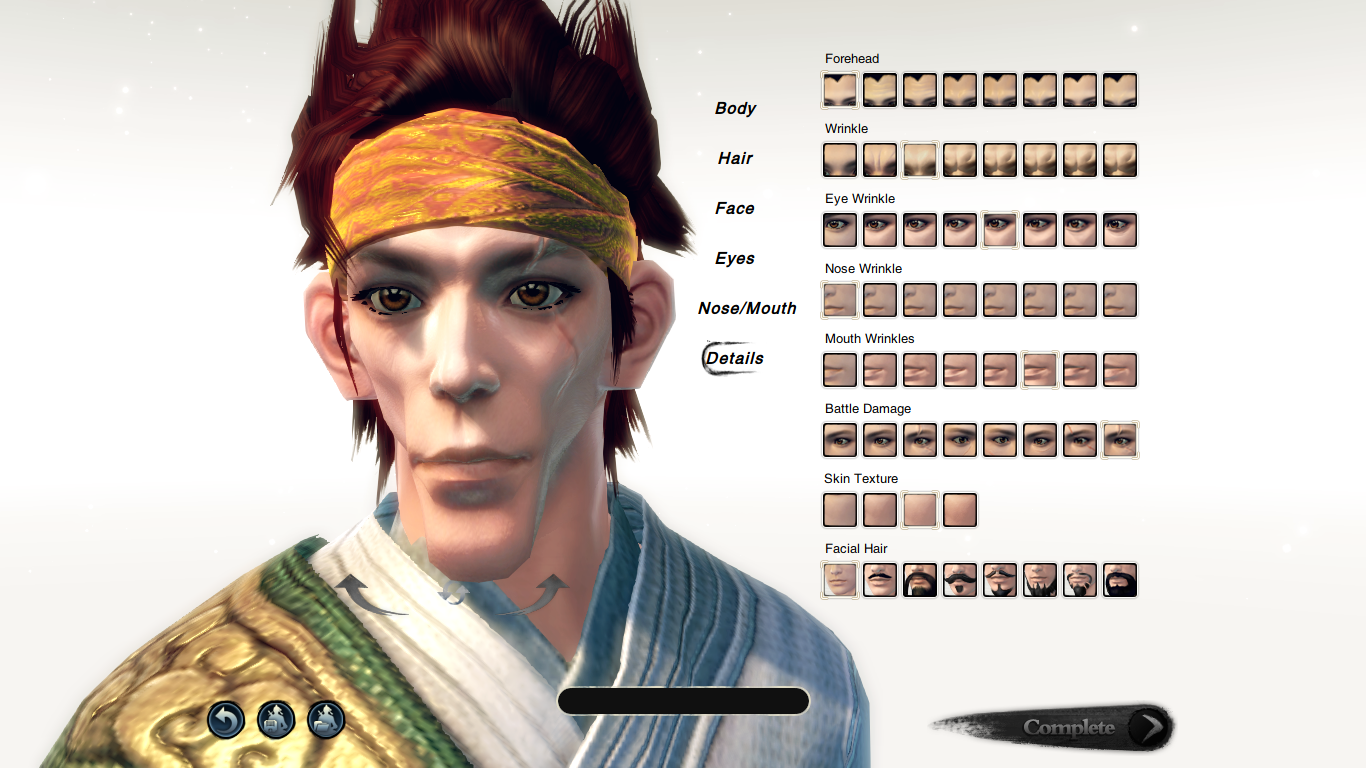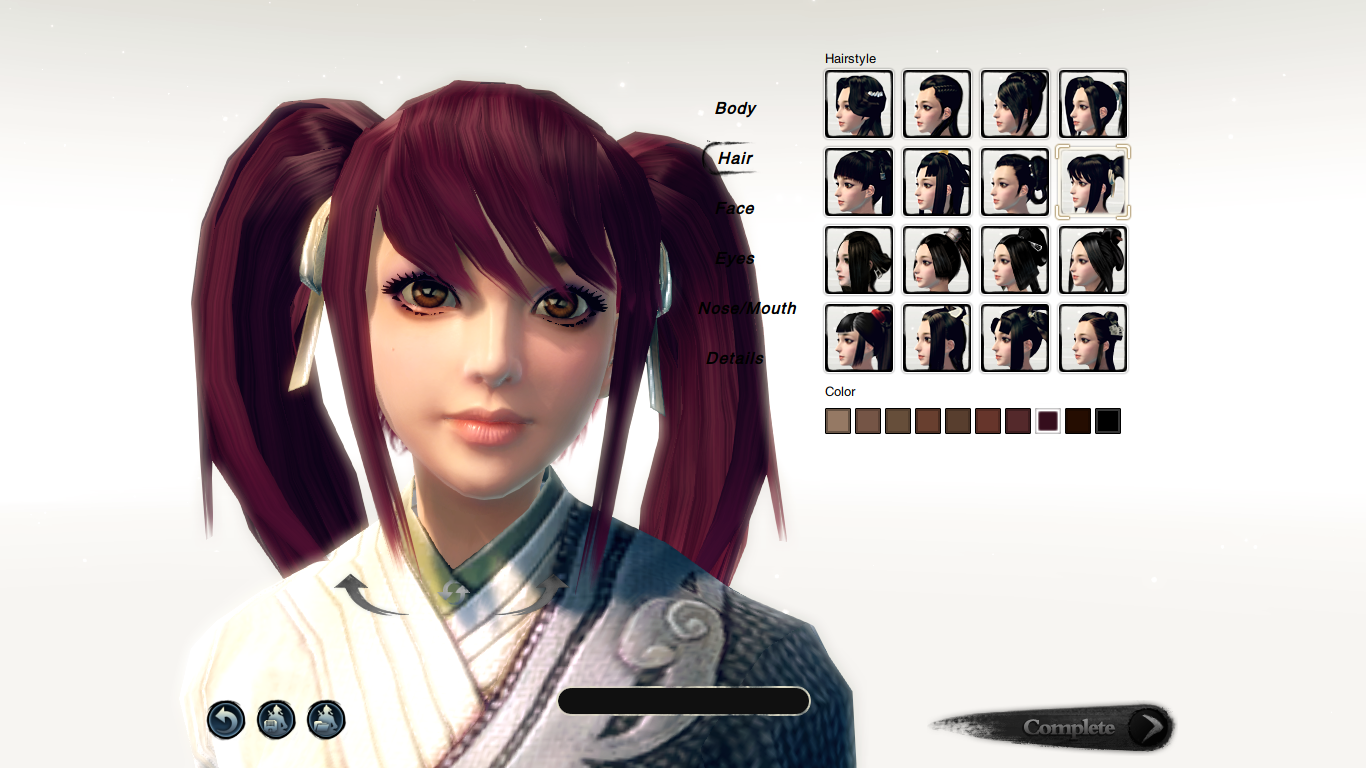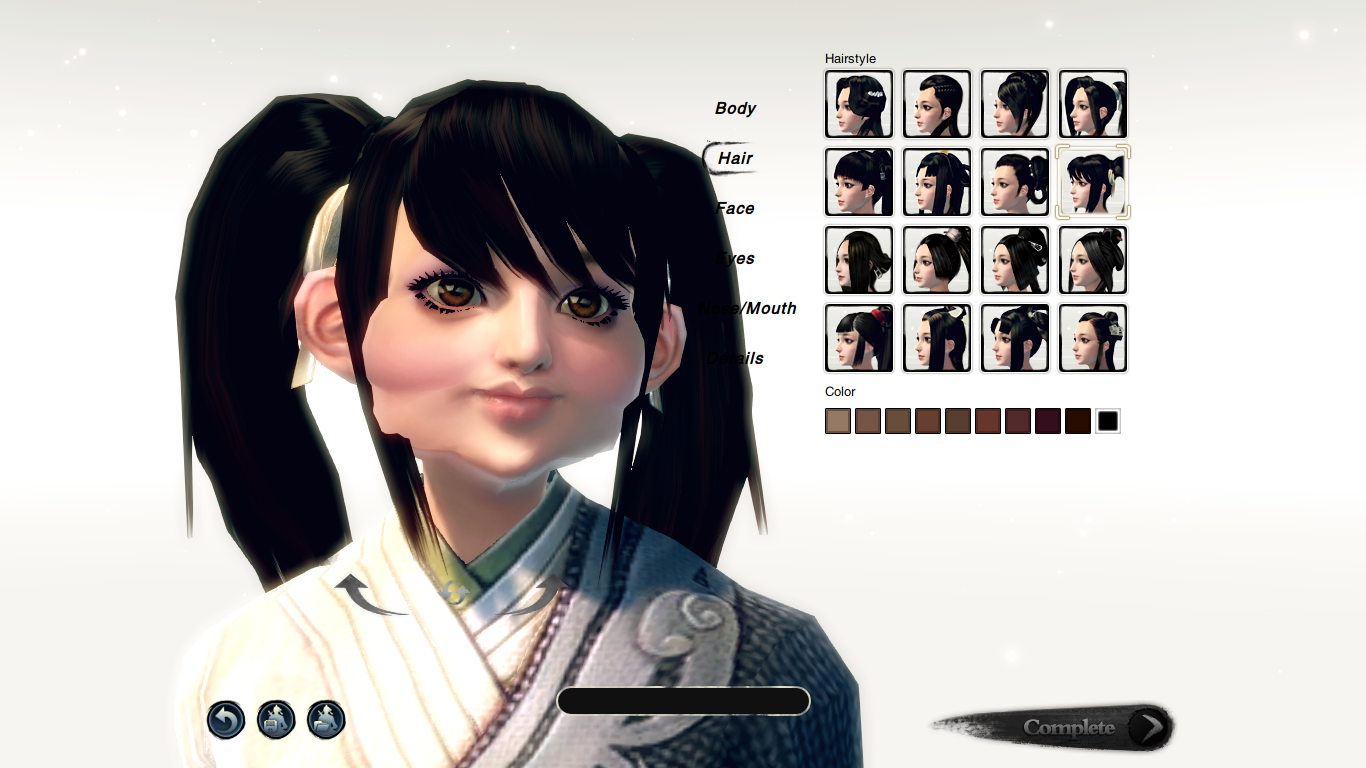 It ranges somewhere between Cloud Strife to Quasimodo.
Along with the varied character models, the graphics in the game are much better than I expected from a F2P offering. The fields are decorated in a lush mixture of greens, grays, blues and browns that capture the various dirt roads, mountains and areas of water you'll come across. Inside the cities, the graphics do well to bring the various decorations of the city to life, and also include some neat tile designs that can be seen along the main roads. The shadows in the game also deserve a special note with every item in the city casting its own distinct shadow and, at times, overlapping with others to create an almost realistic effect. Unfortunately, the same couldn't be said for the greenery outside of the cities' wall. The only other graphically lacking part is that a few of the enemies and other NPCs don't seem on par with the rest, but it still turns out to be a very minor flaw when compared to the depth of the other visuals in this Action MMORPG.
Being an "Action" MMORPG, the combat in this game appears to take on a far more involved attitude than with other MMOs. Instead of targeting an enemy to constantly unleash a swarm of basic attacks, every swing of the character's chosen weapon takes either a button press or mouse click to execute and actual aim to hit the enemy's hitbox. The typical flow of combat takes on a mixture of those attacks along with special moves and a dodge mechanic to round off a standard fight. There is also a combo mechanic that grants more damage depending on the number of continuous hits you have scored… as long as another player doesn't move your target out of the way mid-combo or the clunky controls don't screw it up.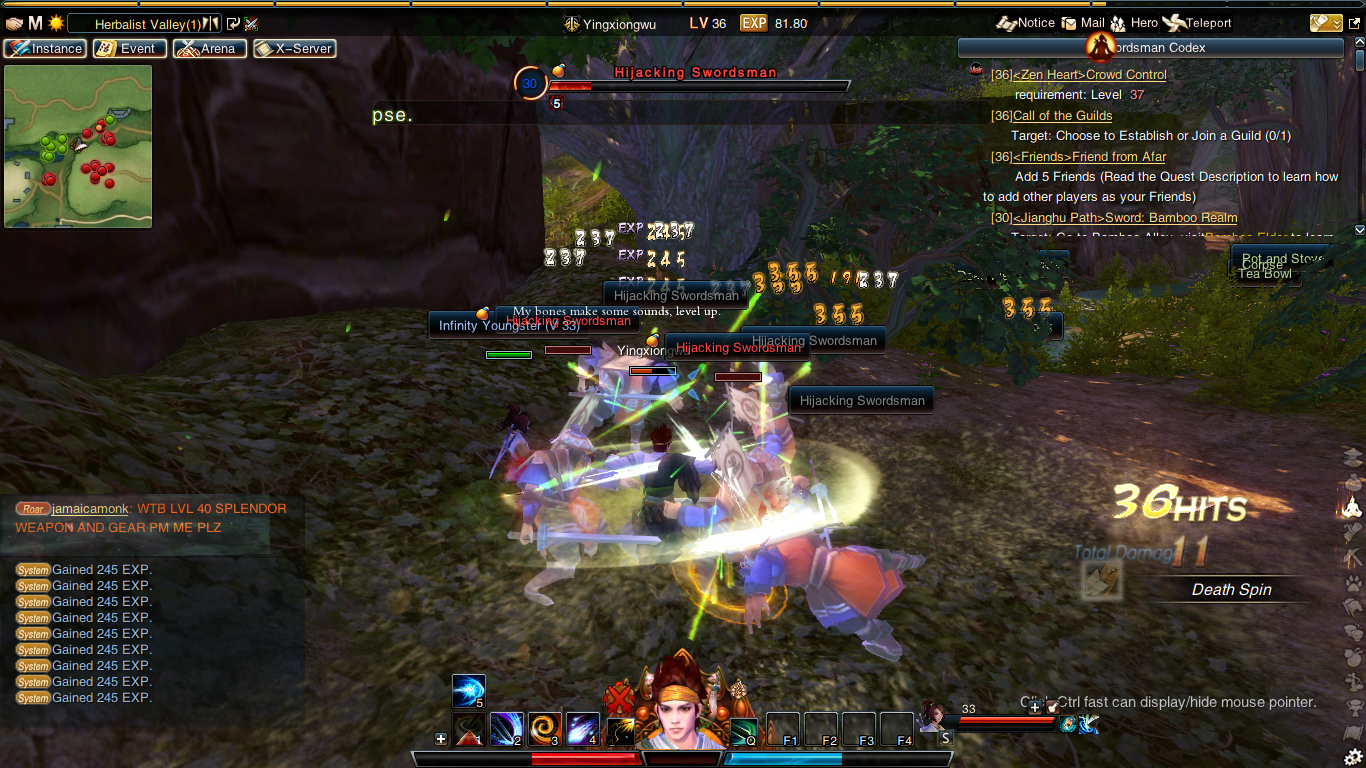 Currently Pictured: My character not giving a shit as he spins around like a
doofus for a high combo.
Regrettably, while the game offers three control options, the controls aren't the most intuitive with the combat. No matter which of the three control styles your choose, you will find yourself having to get used to the clunky controls rather than naturally having it blend with your own personal style of playing, which can delay you from enjoying it at the onset. The controls themselves have an effect on early combat that causes it to appear stiff until you acquire a more diverse move set later in the game. Though, with that said, each successful hit does carry a distinct weight to it as it makes contact with the enemy. Watching a finishing blow send the lifeless body of an enemy flying did solicit a grin from time to time.
The questing itself is rather generic, however. Most taking the form of fetch quests, defeating a certain number of the same enemies, talking to NPCs or the occasional boss fight. Considering that the game has a rather robust acrobatics system that offers triple jumps, air dashing, and gliding, I was hoping there would be more quests involving these abilities that are ripe for platforming elements. Unfortunately, only one quest asked me to use such skills to climb to the top of a building to meet with a man's wife. Also, word to the wise, there are guild specific quest that serve to spice up the gameplay a little bit, so I'd recommend joining a guild at some point.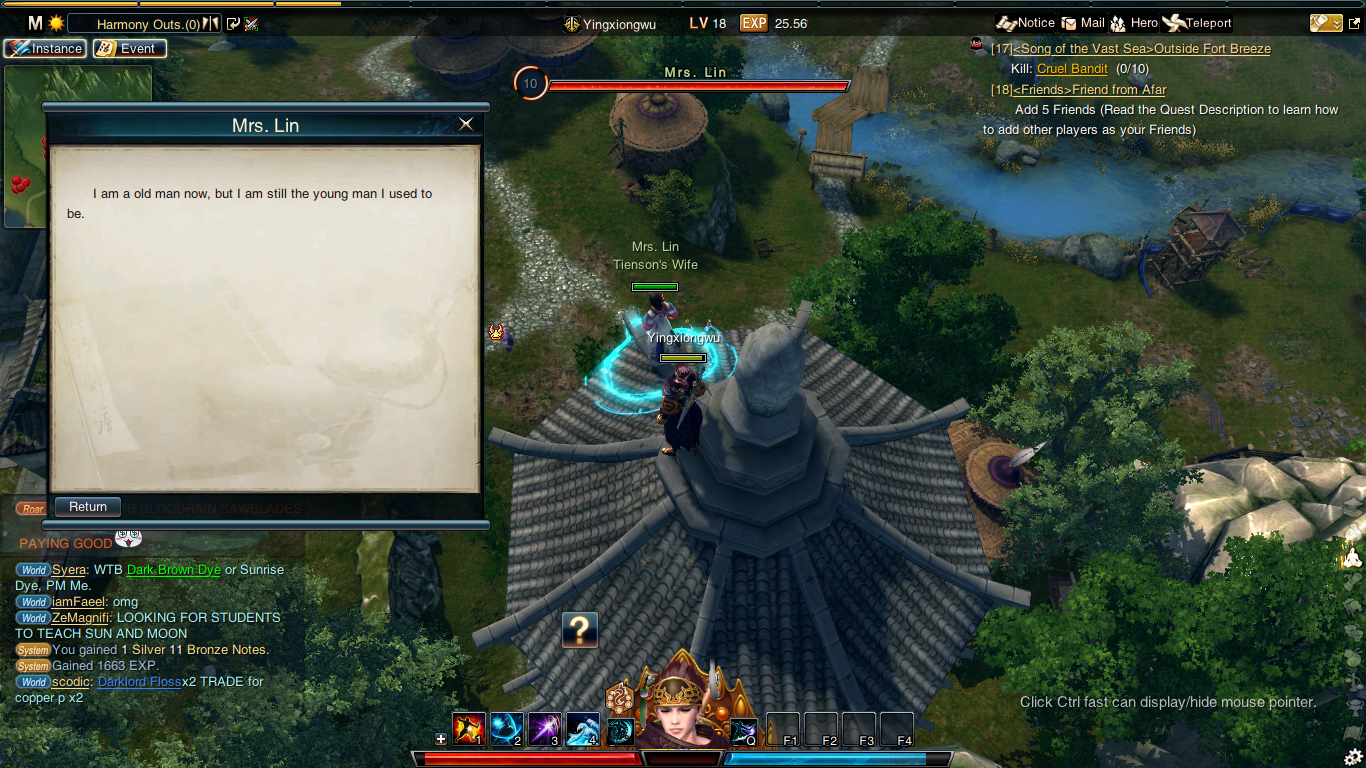 "Golly, Mrs. Lin! I'm okay with that, but I sure hope you told Mr. Lin
about it."
In addition, early on, the quests give a considerable amount of experience points for whatever you have chosen to do, from important to inane. Constantly I would find myself talking twice to the same character only to have him vomit out about ten percent of the experience points I needed to gain a level. I would prefer to see all that experience be bundled up at the end of the quest line in a neat box, rather than be given out in parts like that for every unimportant task I do… but that's just, like, my opinion… man…
Out of the figurative box and onto other parts of the game, Swordsman offers a whopping ten classes under the guise of martial arts schools your character can study. While each of the schools or "classes" are different, they all follow the standard roles of tank, DPS (Damage Per Second), healing, support and control seen in most MMORPGs. Delving deeper, each of the schools offer three distinct styles that can be changed on the fly even during mid-combat that are usually either a variation on the school's role in combat, or a dip into another of the usual combat roles.
Being comfortable with my masculinity, I chose to study under the Infinity Style that is usually practiced by nuns and offered quite the unique counter mechanic to their tank-ish style of combat. Most of the skills are charged attacks that release high damage the longer the charge is held.  However, if hit during the charge the class will unleash a completely different move that usually substitutes damage for a negative status effect or a "debuff" on the opponent. I found that to be a rather interesting mechanic, and would love to see what other mechanics the other schools introduced in the story could pull off.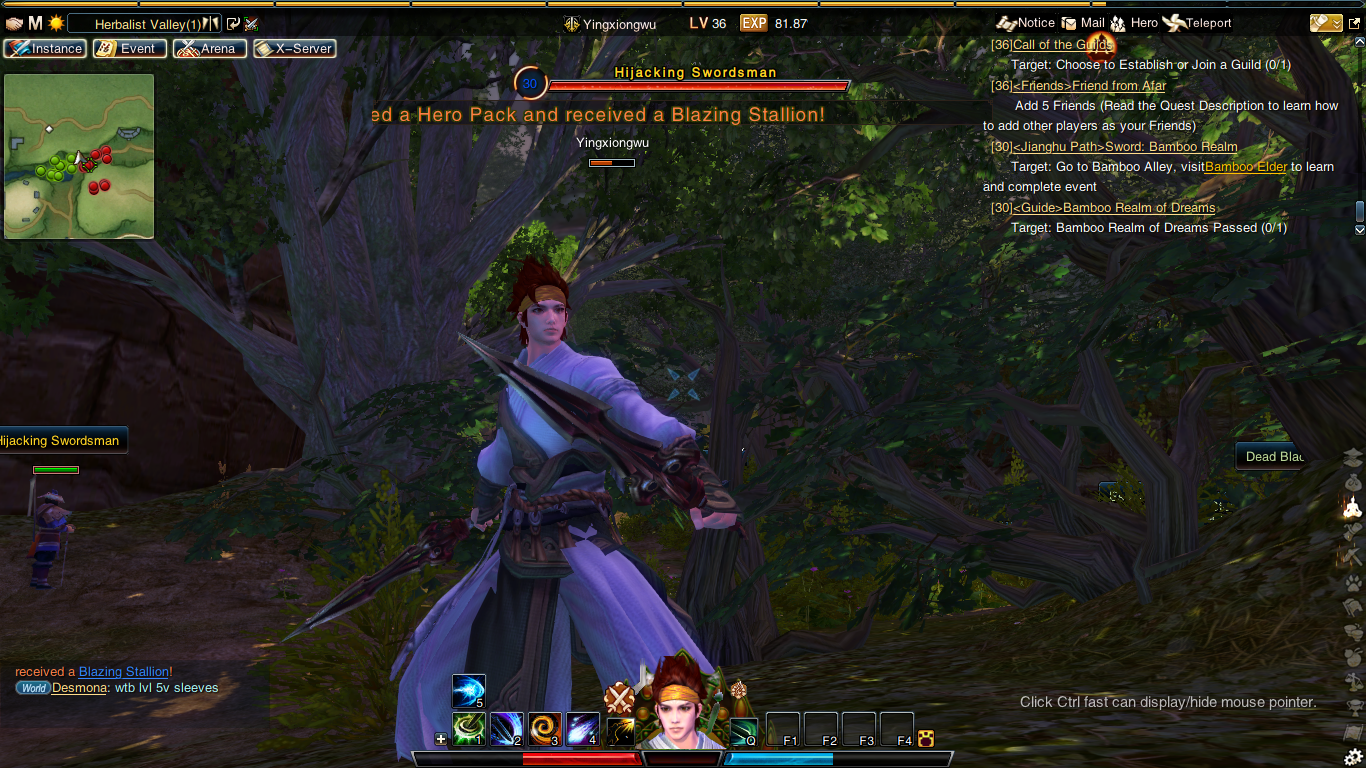 The Infinity School also attempts to make a two sword style viable, which is about
as unrealistically awesome as I wish to be. 
Taken by itself, the story is a little bland and hardly noteworthy. When seen through the eyes of a martial arts film aficionado (i.e. me), it's quite the enjoyable love letter to genre and the books the game is based upon. All of the tropes are there: the main character's village being destroyed, ancient relics, feuding martial arts schools, revenge, secret scrolls and the glorious Fu Manchu facial hair. To add to that, Perfect World made the decision not to dub the dialogue and to keep in its original Mandarin Chinese. This proved to be fairly wise decision as the authentic Chinese voices give the story an authentic vibe, in turn. The only way it could be more authentic is if it replaced the voices with bad English voice acting that doesn't exactly match the lips flaps of the character. All in all, the story is a mixed bag; those that enjoy the genre will enjoy the homage to the books and films the story is based on, and those that do not will hardly care for it.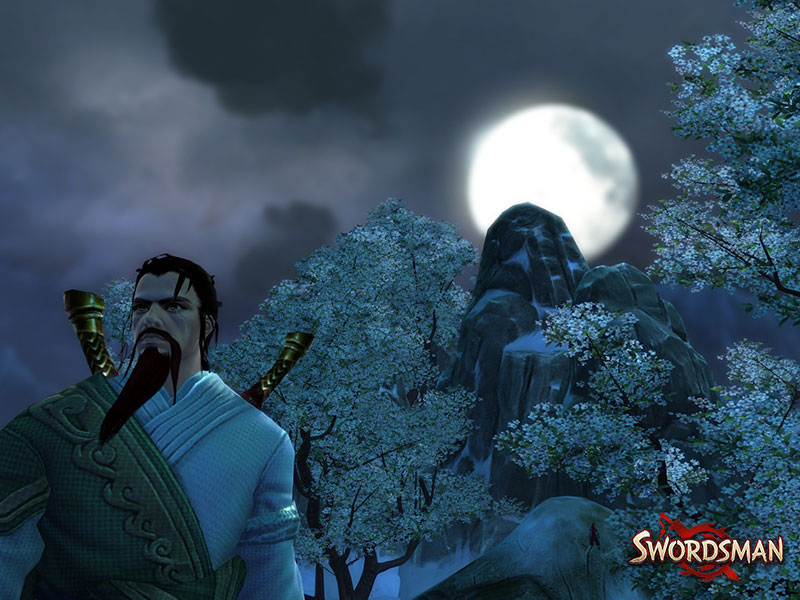 Though early cinema has given the Fu Manchu facial hair a bad rap,
few things are as majestic when properly maintained.
Beyond the story, the game offers a variety of instances, dungeons and events for a group of people to run. Starting at around level 15, the player is already offered their first instance to play at one of three difficulty levels. While most instances can be tackled by themselves at the normal level, swordsman and hero levels ramp up the difficulty to be better tackled by a team of players. Along with those, the game also offers a variety of dungeons at higher levels that offer their own form of exp rewards and items gains. Adding to that, there are many daily events and activities that are sure to better your character in one way or the other.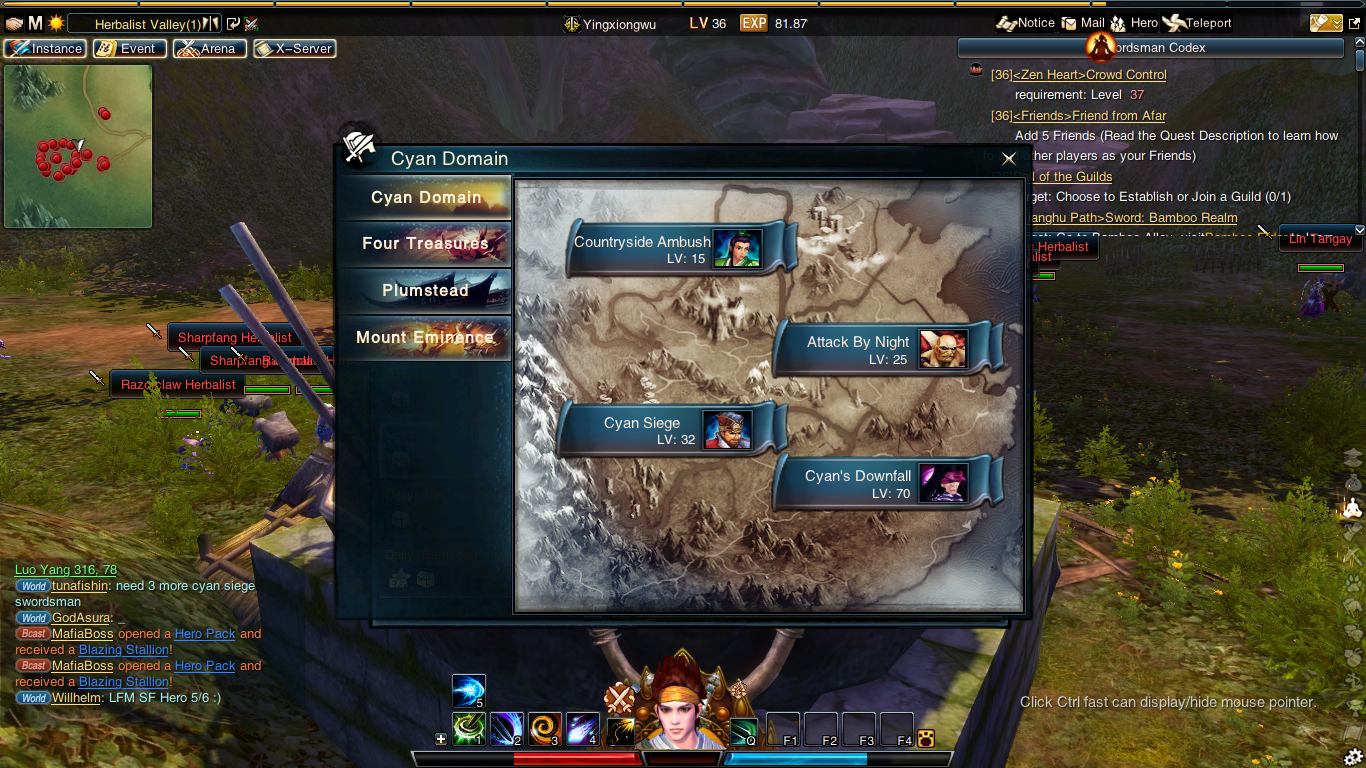 The instances are as important to do as their names are generic.
The Player versus Player (PvP) options come in a few flavors. While typical one on one and group combat can be enjoyed in the game's arena, which includes customizable settings and a reward system for the victor, the game also offers guild based PvP that allows guild to take over land in-game. However, the most intriguing option lies in how Swordsman handles PvP in the open world. PvP players outside of the arena and the guild wars come in three types. First are the Harmony players that aren't allowed to attack others. Then there are the Outlaws that can attack any player above a certain level for a monetary reward but at the cost of their name turning red and branding them as a player killer. Lastly, there are the Avengers that are only allowed to gank (kill) characters whose name has turned red, netting the player an item from the character's inventory once defeated. In a way, this game of mouse and cat (and dog) is a fascinating way for the player characters to police themselves.
As for the audio, I found it rather lackluster to say the least. Not that it ever detracted from my experience of the game, but nothing struck me as noteworthy in the music or sound effects department in the open beta.
Being in open beta, Swordsman is riddled with enough bugs to make a roach motel jealous. A few I encountered included: graphical glitches, closed doors that I could pass through, opened doors that looked closed on screen, the sound randomly cutting out during cutscenes, my character freezing in place for several minutes and an invisible enemy hunting me down until I could escape to a safe zone. As a special mention, the most amusing glitch in the game allowed me to make the enemies windmill uncontrollably after being killed by certain moves. While none of these glitches are game breaking, they sure do bring you out of the game's immersion.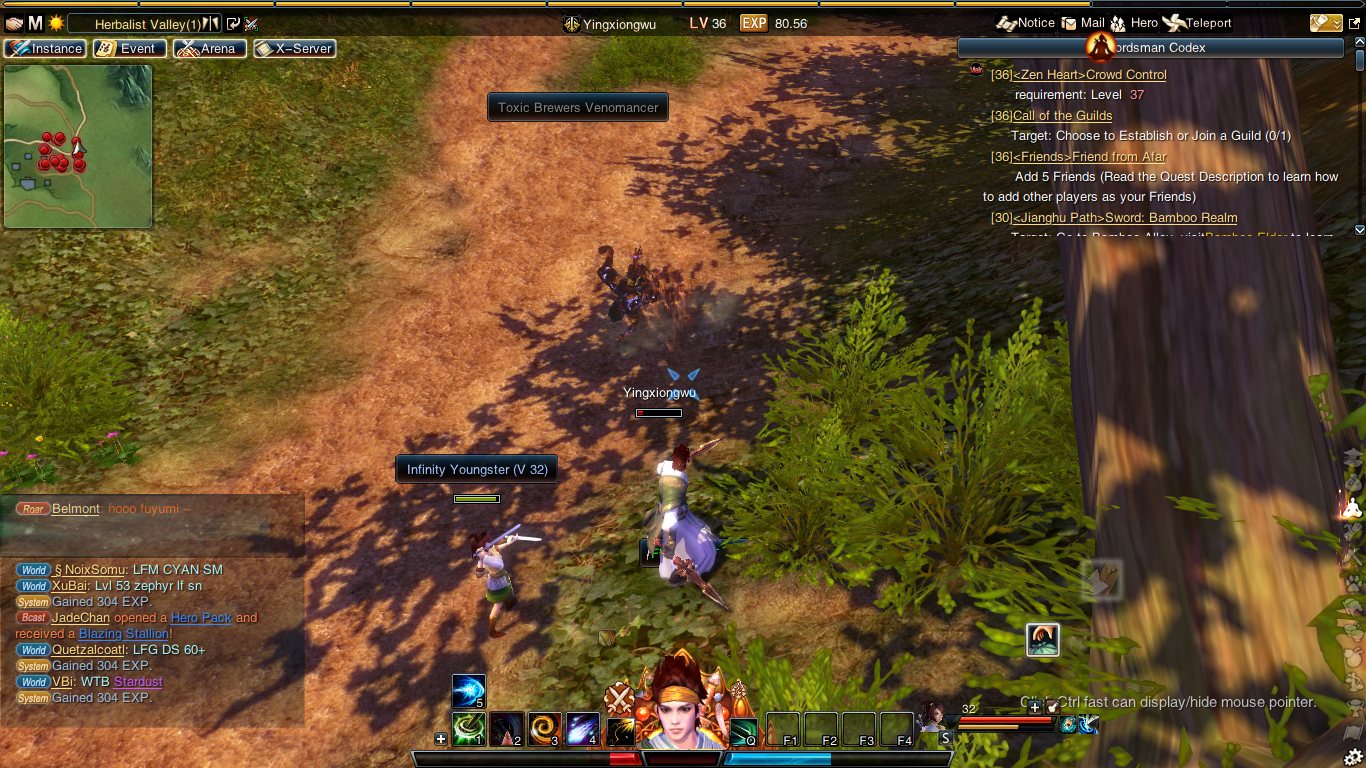 I like to think that sometimes I don't kill my enemies, but instead their defeat
inspires them to take up their true passion in dance.
Lastly, for the duration of the game, I was offered the Hero's Pack by Perfect World. Included in the package comes a combination of a mount, a unique companion, equipment, an exclusive fashion and consumables all meant to make your Swordsman's experience all the more enjoyable for $59.99. While most of the items only serve to streamline the experience and literally make things faster for you, like the Blazing Stallion that goes about 3 miles per hour faster than a typical horse, there is some worth in the rather powerful Ring of Valor, which is an upgradable piece of gear that can boost its stats as you level. Also, the package offers you a unique fashion  which doesn't serve anything outside of an aesthetic sense that this is the closest you'll be to looking like Mortal Kombat's thunder god in Swordsman, which admittingly, is still pretty cool. Overall, while it can be convenient for those starting out or seeking to raise an alternate character, I found the Hero's Pack unnecessary for a patient player.
Maybe if you squint your eyes and turn your head to the left…
Though the game definitely has it share of glitches and faults, I believe the game is worth a try for anyone looking for a new MMO to enjoy. From the unique setting, variety of classes, abundant PvP and eye-catching graphics, the game more than makes up for getting use to its clunky controls and other lesser traits. Plus, it made my first true MMO experience not all that bad…
When not writing reviews as Unnamedhero, Eduardo Luquin can be reached at unnamedheromk13@gmail.com.